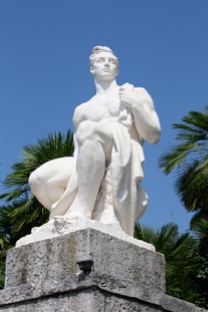 The Soviet House of Rest
A full web site devoted to project can be found here.
In spring 2011 I curated an exhibit on Soviet resorts in Sochi, which was displayed at the Smith Gallery at UC Santa Cruz. The exhibit was supported by the Wende Museum in Los Angeles, which loaned us some beautiful Soviet paintings and posters devoted to themes of physical culture.



The gallery was set up with artifacts from Soviet health resorts, and visitors were invited to play chess, read Soviet periodicals in Russian and English, test the curative effects of Russian mineral waters, or lie down for a rest and watch documentary films on life at the resort.

A video tour of the exhibit, with Humanities Dean Georges Van Den Abbeele and noted Russian historian Peter Kenez, is available here.