Russian Theatre

At UC Santa Cruz I staged Russian-language performances as part of the International Playhouse for seven years.

2011: Ivan Vasilevich. A short version of the Bulgakov play that was made into one of the great Soviet film comedies.
2010: The Tale of the Old Bridegroom. An original play pitting modern-day Mafiosi against folkloric babushki in a remote village.
2009: Mystery-Bouffe. An updated version of Mayakovsky's revolutionary play.
2008: УКСК (The Soviet Musical). A Soviet-style musical imagining what would happen if UCSC really did go "communist."
2007: Dead Souls. Scenes from of Bulgakov's stage version of the classic Gogol novel.
2006: Victory over the Sun. The first Russian-language production in the U.S. of this groundbreaking futurist opera.
2005: Incidents. Scenes from Daniil Kharms short works.

We had guest workshops by theatre professionals from UC Santa Cruz and Berkeley, and incorporated methodologies of Russian avant-garde theatre (Meyerhold in particular), which are particularly suited to the development of an innovative interdisciplinary school of theatre.

I hope to renew this tradition soon at the University of Chicago. Contact me if you are interested in performing.

You can access the performances below.

УКСК (The Soviet Musical)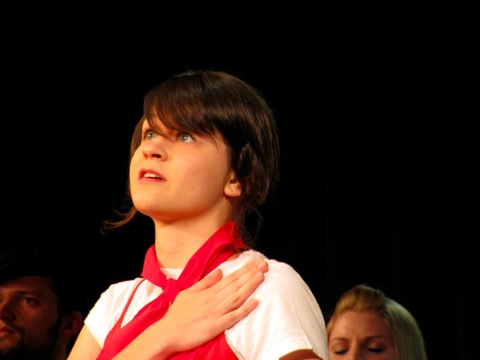 In 2008 the UCSC campus was under attack by David Horowitz for its supposed communist leanings. We had fun with this idea, imagining what our campus would be like if our students really did become communist. A cross between UCSC and USSR culture was portrayed in the style of a Soviet musical, with a bit of Broadway thrown in for kicks.