Personalized Law
Personalized Law—rules that vary person by person—may be a profound revolution in Big Data's future. A legal norm aimed for the "reasonable person" could be replaced by a multitude of personalized commands—each actor with their own "reasonable you" standard. Better drivers could be freed to drive faster, weaker consumers would receive stronger protections; minimum age restrictions would no longer be uniform; and each borrower would be entitled to a personalized loan disclosure, tailored to their mental capacity. Personalized law could bring enormous social benefits, but it also raises fundamental questions about equality, rule of law, manipulation, coordination, and the power of data.
In this lecture, delivered via Zoom, Professor Ben-Shahar discusses his forthcoming book with Ariel Porat, Different Rules for Different People.




In this Podcast, part of the the Uchicago Big Brains Podcasts series, Ben-Shahar asks: Could personalizing laws make society more just?


In this lecture, delivered as the 2020 Ann F. Baum Lecture on Elder Law at the University of Illinois, Professor Ben-Shahar presents a novel idea: "Personalized Elder Law."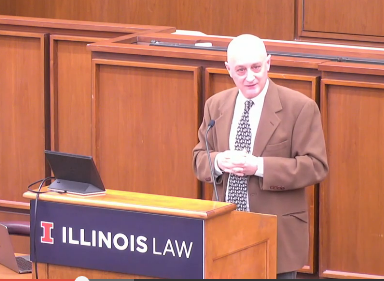 [Link]
Congressional Testimony: How Companies' Decisions About Data and Content Impact Consumers
Testifying before a joint hearing of the Subcommittee on Communications and Technology and the Subcommittee on Digital Commerce and Consumer Protection, November 29, 2017.



[Ben-Shahar's testimony begins at 32:00]
Latke-Hamantasch Debate 2021
Omri's presentation at UChicago Hillel's 75th annual Latke-Hamantasch Debate, arguing why the Hamantasch is the social glue of Judaism




Data Privacy and Consumer Protection
In the 2019 Antitrust and Competition Law Conference hosted by the Stigler Center, Ben-Shahar addresses two core issues in the regulation of digital platforms: data policy and consumer protection. The lecture, which follows an intriguing presentation by Professor Lior Strahilevitz, challenges two common themes in this area. Ben-Shahar argues that "Data Pollution," rather than data privacy, should guide lawmakers in regulation digital platforms. And he disputes the hope that pro-consumer rules backed by strong informed consent rules could make a difference.



[Ben-Shahar's 16-minute lecture begins at 52:15]
Economic Analysis of Consumer Protection Law
In September 2020, The Coase-Sandor Institute launched a new Forum on Law-and-Economics with the FGV Universities in Brazil. At the height of the Covid pandemic, the four week program featured eight lectures, including four by Chicago faculty. In this lecture, Omri Ben-Shahar introduced the audience to the economic analysis of consumer protection law. The lecture begins at the 5:30 mark of the video clip.



[Link]
Data Pollution, 2019
In this lecture, delivered in 2019 at the "Legal Challenges of Data Economy" Conference in Paris, Professor Ben-Shahar discussed his article "Data Pollution", offering a novel diagnosis of the problem posed by data collection.



[Link] to the full panel (Ben-Shahar's lecture starts at 2:54:20)
Short clip: What is "Data Pollution"?"
Book Forum on More Than You Wanted To Know: The Failure of Mandated Disclosure
In this panel, recorded on September 29, 2015, at the Richard & Sue Ann Masson Policy Center, Professor Ben-Shahar discussed his book, More Than You Wanted to Know: The Failure of Mandated Disclosure, with comments by Paul Atkins, CEO, Patomak Global Partners, and former SEC Commissioner; and Andrew Stivers, Deputy Director, Consumer Protection, Federal Trade Commission. The panel was moderated by Thaya Brook Knight, Associate Director of Financial Regulation Studies, Cato Institute.



[Link]
The Coase Lecture of 2009: Myths of Consumer Protection: Information, Litigation, and Access
Omri Ben-Shahar is Frank and Bernice J. Greenberg Professor of Law at the University of Chicago Law School. This talk was recorded February 17, 2009 as the annual Ronald H. Coase Lecture in Law and Economics.



[Link]
Realism versus Formalism in Commercial Law: Lisa Bernstein's Challenge to Llewellyn's Legacy
In this "Chicago's Best Ideas" lecture, delivered via Zoom in the early days of Covid-19 lockdown, Professor Ben-Shahar discusses the work of his colleague Lisa Bernstein, that influenced and inspired some of his own early writings.




The Paradox of Access Justice
In this 2015 lecture, Professor Ben-Shahar discusses the unintended effects of equal access laws, which are enacted to provide protection and access to weaker populations. Ben-Shahar shows that these law often help most those who need help least, and explains why they so surprisingly fail. The lecture was based on an article subsequently published as "The Paradox of Access Justice.".




No Contract
A popular type of consumer transaction is called "No Contract." Businesses lure consumers with the "no contract" assurance - a promise that consumer can walk away anytime, without any commitment. In this lecture, based on an article with Oren Bar-Gill subsequently published as "Exit From Contract", Professor Ben-Shahar discusses the surprising effects of the "no contract" assurance.






Food Deception
At an event organized by the Food and Drug Law Society at the Law School, this lecture focuses on the deceptive ways food is marketed in the United States.




Easterbrook on Contracts and Copyright
This panel discussion was the first in a series of three events, initiated by the University of Chicago Law Review, celebrating Judge Frank Easterbrook's 25 years on the 7th Circuit Court of Appeals. The panel, which featured professors Omri Ben-Shahar, Randy Picker, Eric Posner and Judge Easterbrook, was held on January 11, 2010.



[Link]